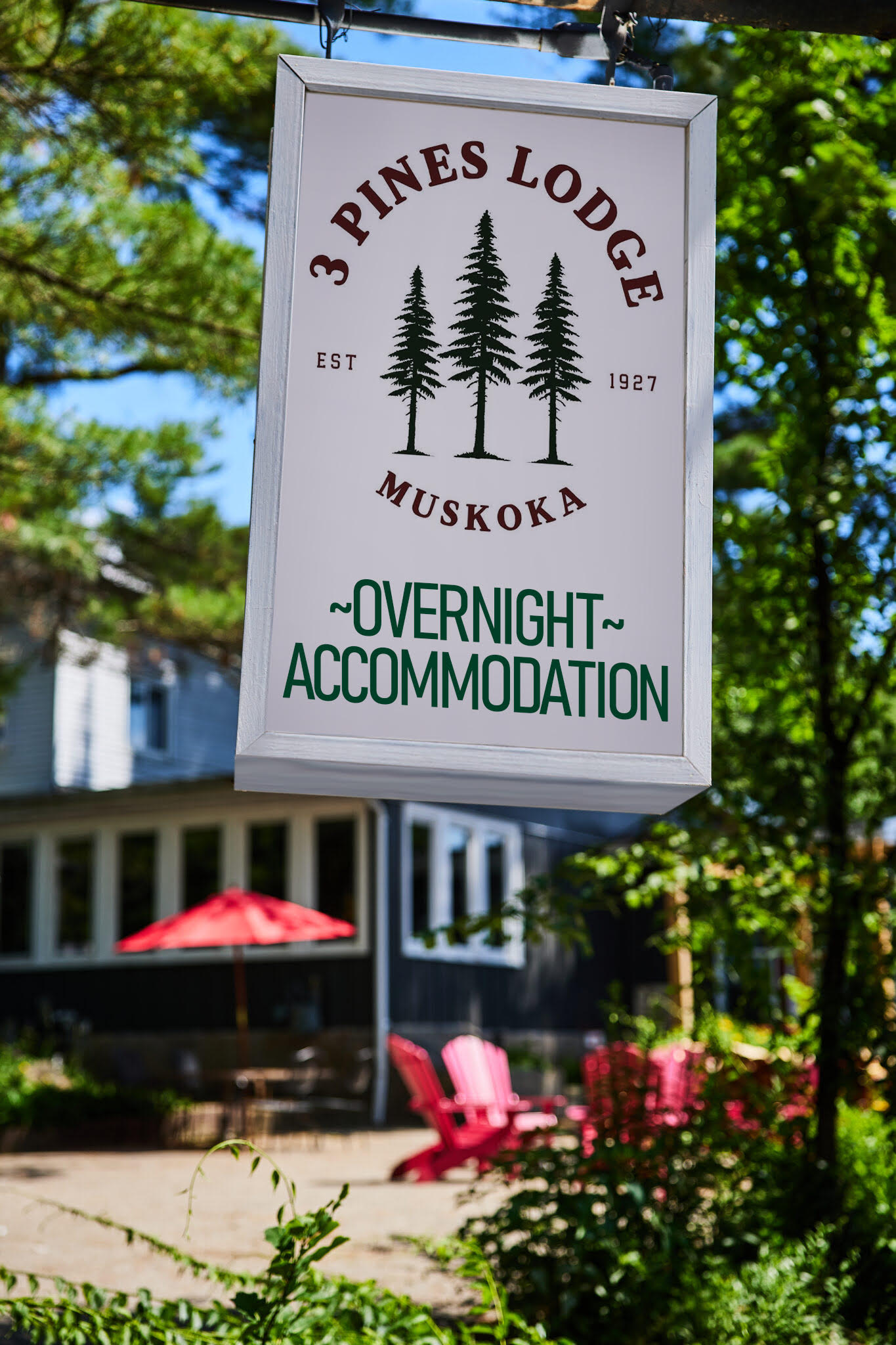 Our Group is committed to help clients
Welcome to 3 Pines Lodge Huntsville Muskoka, located at 484 Muskoka Rd 10 in Port Sydney, Ontario, Canada. Our lodge is nestled in the heart of Muskoka, surrounded by natural beauty and tranquil surroundings. We offer comfortable and cozy accommodation for our guests to enjoy while exploring the wonders of this breathtaking region.
Our lodge features a variety of rooms, including standard rooms, deluxe rooms, and suites, each designed to cater to the needs of our guests. All our rooms are equipped with modern amenities such as flat-screen TVs, complimentary Wi-Fi, and comfortable bedding to ensure a relaxing stay.
At 3 Pines Lodge, we believe that dining is an essential part of your vacation experience. Our onsite restaurant, The Pine, offers a diverse menu that includes local and international cuisine, and our expert chefs prepare each dish to perfection. You can enjoy your meals in our dining room, on our outdoor patio, or in the comfort of your room. Motels in Huntsville Muskoka
3 Pines lodge Huntsville Muskoka being in the laps of Mother Nature
The most unbelievably kind service we ever received! Our host went above and beyond to make our "celebration of life" memorable. We will definitely be returning in the future, looking forward to staying over next time!

S D


September 20, 2021

We had burger and fries. They were very good. The customer service is excellent.

Juliet R


September 22, 2021

Such a great little restaurant! Fish and chips were so tasty. Lightly battered fish and no grease to be seen. Wing sauce was unbelievable. Sweet and spicy. So yummy. Great spot with a beautiful view

Natasha MacArthur-Poole


September 20, 2021

We stayed here because it was close to a wedding we were attending and had minimal expectations. We ended up having the most incredible stay. Owner and staff are so friendly, accommodating and go above and beyond. I would absolutely come back and stay just for a weekend away. Location, rooms and food were all amazing.

Jenny MacArthur


September 20, 2021
3 Pines Lodge  is one of a kind Bed & Breakfast experience. Check out more images from our gallery.
In summary, if you're looking for a cozy and comfortable place , 3 Pines Lodge is an excellent choice. Our location, amenities, and customer service will make your stay an enjoyable and memorable one. Book your stay with us today and experience the best that Muskoka has to offer!
We take pride in offering exceptional customer service and aim to exceed your expectations. Our Luxury lodge in Huntsville Muskoka is located just a short drive from local attractions, including Algonquin Provincial Park, Santa's Village, and Lake of Bays. Whether you are visiting Muskoka for business or leisure, we invite you to experience the warmth and hospitality of 3 Pines Lodge. lodges in Huntsville Muskoka
From Muskoka Road 10 Approximately 2.4 KM to 3 Pines Lodge which is on your left driving towards Mary Lake Together We Make a Happy Stay !
Air so fresh that a breath of this makes you calm at instant. And to top it all, the drive to this dream destination is only two hours from the city.
Visit us : 484 Muskoka Road 10, Port Sydney, ON P0B 1L0
Call Us : +1 705 385 2271
Mail Us : info@3pineslodge.com
Our reception & reservation team is there to assist you from 9 am to 6 pm.
24/7 Open